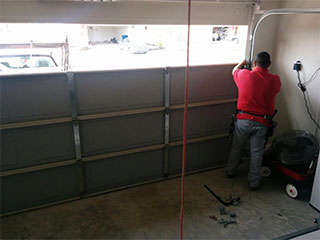 Garage Door Repair Seguin offers professional services and solutions anywhere in town for the comfort of our local friends and neighbors. We're highly adept at resolving any situation, problem or malfunction concerning your garage door.
What Should You Do on your Own?
Some people might think that they'd be best off trying to solve minor malfunctions on their own without calling for professional services. This, however, is a misguided perception that more often than not results in more serious complications and more costly repairs. In extreme cases this kind of behavior might even result in physical injury.
With that said, if we're talking about simple maintenance jobs, like cleaning the tracks, clearing objects form the sensors' line of sight or lubricating hinges, for example, there's no problem to do it on your own with basic yet proper equipment, such as latex gloves. Anything else, you'd be best advised contacting experts.
What Can We Help You With?
Once you spot that there's something wrong with your garage door or even if you suspect something, you should immediately contact our specialists. We will gladly help with any required service, whether it's repair or replacement of tracks, hinges, springs, rollers, openers, or panels, or expert consultation regarding any other matter.
When Should You Call Us?
A problem usually comes with symptoms or signs that indicate its existence. For example, if the door makes weird noises and sounds when it moves there's probably something there that requires your attention. If it fails to open or close or only reaches partway, again, there's probably something wrong. Basically, whenever you feel that the door is behaving differently than before – give us a ring.
Gladly Serving Seguin
There's nothing better than being able to rely on your local community for professional assistance when needed. Whenever you need us, simply contact us and we'll send a team your way. There's no garage door repair we can't do, no problem we can't solve. With local, fully-equipped, extensively experienced technicians, everything becomes easier.
We also offer:
Garage Door Tune Up Services
Extension Spring Adjustment
New Garage Door Installation