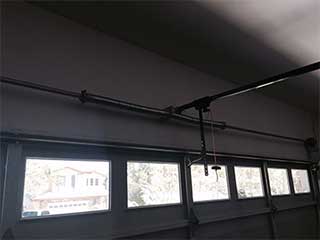 God works in mysterious ways. Well, garage doors do, too. Unless you're a trained Garage Door Repair Seguin technician, that is. Humor aside, usually the hidden parts carry most of the load or do most of the work. You don't have to be smack in the center of attention to be important. Garage doors' torsion springs are exactly like that. Being mostly out of sight, these coiled pieces of metal are in charge of an extremely important job – carrying the weight of your door and moving it upwards and downwards in a controlled fashion.
What are Torsion Springs?
Torsion springs are powerful, flexible pieces of coiled metal that work in a fascinating way – the more they are twisted and coiled the more energy they're able to keep within them. The less tense they get and the more uncoiled – the more they release that stored energy.
By understanding their operation one can immediately appreciate their importance and role in the door's proper operation. Contemplating this, one can also immediately appreciate what might happen if there's something wrong with them, if they wear out, if they get corroded, if they get too loose or if they break. In any such case, immediate action must be taken.
Don'ts – Some Things Should Not Be Messed With
When it comes to damaged garage door springs, the don'ts are extremely simple: don't attempt to fix, replace or otherwise handle them on your own. Just don't. Really, resist that urge. Here's why: storing an astounding amount of energy is great and very useful, as long as it's controlled and contained. If you fumble around with the torsion springs you can accidently release them, giving an opening for all that stored energy to express itself, and not in positive ways. Such an immediate burst of energy, which propels a strong, metal object, can result in grave injury to anyone in the area.
Dos – Garage Door Springs – What You Should Do
As simple as the don'ts were, the do's are even simpler. Do: call professionals without delay. Whenever you hear the door squeaking and making weird noises that weren't there before, whenever you see it has difficulties moving smoothly up and down, whenever you see that it's struggling to open all the way, whenever you find your door completely shut and unresponsive to attempts to open it, it's time to call for professional assistance.
The Best Team in Town
Once you contact our team of local experts, they will examine what's wrong with your garage door in general and with its torsion springs in particular, and proceed to fix or replace anything that requires treatment.
With quick solutions and competitive rates – there's nothing really to wait for – contact us today.
You can also count on us for:
Part Replacement & Repair
Opener Sensor Replacement
Oil Tempered Torsion Springs
Overhead Door Installation