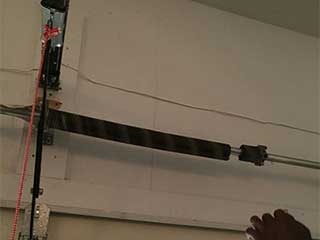 An average garage door will almost certainly malfunction during its lifespan. No matter how much you look after your mechanism, you will encounter a problem with it that will need professional assistance. Here are the most common issues garage doors crop up over the years.
Broken Torsion Spring

If you hear a loud noise resembling a firecracker sound coming from your garage, chances are that one of your springs broke. The spring's quality is rated by its number of cycles and broken springs are the prime issue garage door specialists face on a daily basis. It is crucial you don't attempt to open the door in case the spring is broken, as this can be very unsafe. In case you think there's something wrong with the springs – call an expert.

Disengaged or Damaged Cables

The second most common problem with garage doors are faulty cables. The cable might not be properly fitted on the sprocket or might've snapped after your torsion spring broke. Sometimes, this snapping results in vehicle damage or even injuries if a person was nearby. To repair a broken cable, you need to contact a service company immediately to schedule a visit from a professional.

Problems with Your Remote

If your door won't open via the remote, there are several things that may be causing the problem. First, check that you're in range and that the batteries in your remote are fresh. Moreover, ensure that the antenna on the unit is hanging down from the motor. If there still isn't response, try reprogramming your remote.

Door off Track

If your door doesn't slide properly, it might be off the track. Ensure the door is rolling with no obstructions. Open your eyes and ears to the warning signs – if there are squeaks and areas of friction anywhere along the track you will know that those sections are misaligned.

Automatic Reverse System Fails

All garage doors are fitted with an automatic reversing system to prevent injuries from occurring. If you notice your door starts going back halfway through it might be engaging this safety feature. You will find your beam sensors on each side of the track. Make sure to wipe them clean and get rid of any obstacles that might be in the way.